This week we have happily launched a new and exciting product, our Liquid Level Indicator!
It was thoughtfully designed to help those with limited visibility, the elderly, or wheelchair users to pour the liquid (hot or cold) into their cup, glass, jug, or pot without overfilling or spilling.
It's a nifty little gadget for the kitchen that comes with some great perks:
Beeps & Vibrations: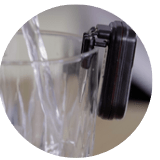 Unlike other indicators, the Uccello's has a 2-stage alarm and vibration signals.
This means that you will hear and feel beeping and vibrations when the liquid reaches the lowest prongs. They will also intensify when you reach the highest prong to tell you that your cup is now full.
Adjustable Prongs: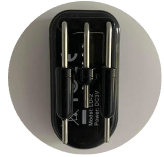 Worried that it won't fit your cup or glass? That's not a problem, the Liquid Level Indicator has easily adjustable prongs so that you can fit it perfectly to the item you wish to fill.
Splash Proof: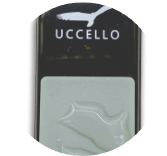 Thanks to its peel-back rubber capping no the front you don't have to worry about liquid getting into the battery, This rubber seal protects it from any splashes and give you a long last and reliable product.
Magnetic: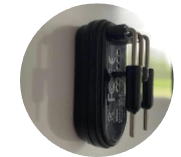 The front of the Liquid Level Indicator comes with a magnetic plate so you can stick it to the fridge, microwave or other steel surfaces in the kitchen.
Say goodbye to searching and rummaging around the cutlery drawer and the frustration of not finding something when you really need it.
The magnetic strip makes the Liquid Level Indicator a dream to use and to find.
Battery Included: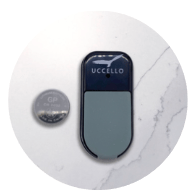 We remember them well, opening a gift on a special occasion or buying a new gadget only to find out when you are home that batteries are not included. Honestly, it's maddening.
You will be happy to hear that the Liquid Level Indicator comes with a battery included so it's ready for use the second you open it.
It's Also Easily Cleaned:
While we would all love to have items and rooms in the home magically cleaned for us, sadly it's not the way. But with the Liquid Level Indicator, cleaning couldn't be easier. Simply use a damp cloth to wipe the stainless-steel prongs and you are ready to go again.
We do not recommend that you use any soaps or detergents on the device as it may cause damage.
What Our Customers are saying about it:
"Brilliant. Helps my Mum keep some independence." – Diane
"Really clever little gadget." – Freddie
"Bought for my Mum with Macular degeneration. It's made such a difference to her when making cups of tea." – Alison
"For someone with imperfect vision, it makes it safer to make a cup of tea or coffee. Great value for money." – Ronald
How Well Will it Work with Other Uccello Products?
At Uccello our sole aim is to help make people's lives easier. All of our daily living aids assist you to pour hot water safely and steadily every time. With our tilt-to-pour kettle there is no heavy lifting involved. The Uccello Grip Mat acts as the perfect cup guide for anyone with limited visibility of bad depth perception (will work hand in hand with the Liquid Level Indicator) and the Muggi is ideal to transport your cuppa from A to B.
Where can I buy one?
You can purchase the Liquid Level Indicator direct on our website and receive free delivery. You can also purchase it along with our other daily living aids like the Uccello Kettle and the Uccello Grip Mat as part of a bundle and you can save money on your purchase with our bundle deals.